Some of our happy customers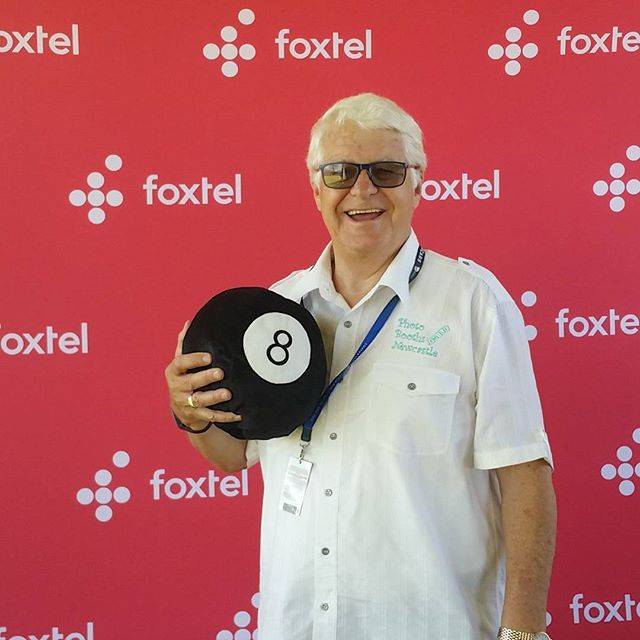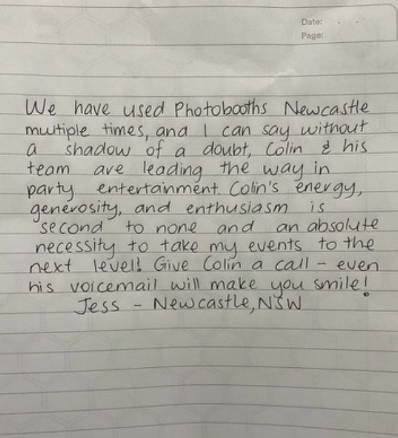 Jack & Chelsea
Hi Colin,
Just writing our testimonial from our wedding at Stanley Park on the 30th of March. The photo booth was absolutely amazing, a highlight of the night for our guests. The cold fireworks were the absolute highlight of our night! They were amazing and adding extra sparkle to our special day!
Thank you so much,
Jack & Chelsea
Cal
Hi CJ,
Just wanted to say thanks for making our wedding on Saturday night so awesome. Everybody absolutely raved about it and had a blast. Our wedding would not have been the same without you.
Michelle told me you wanted our address. It is 8a Jellicoe Close, Fingal Bay, NSW, 2315.
Thanks again.
Cal.
Christie
Great idea for any occasion.
The old and young ones loved it
Colin and his team are amazing! Thank you for helping to make my husband 30th birthday party even better.
Christie
Rebecca
Colin!!
Thank you so so much for helping us on our special day. You were an absolute hit with the wedding guests, we had so many comments about how great you are. The book is amazing, we have showed everyone and they all agree.
Thank you so much x
Rebecca
Mr. & Mrs. Brady
Dear Colin,
Thank you so much for all your help and for being a part of our special day. It was truly the best day of our lives and we loved every minute of it! Thank you for continually working with us and helping us
create personalised touches, an amazing day, and truly unforgettable memories. Our love and gratitude,
Mr. & Mrs Brady
Natasha and Aaron
Just also wanted to day a big thank you for such a fun and fabulous night with the Photo booth. All our guests had a blast which is event in the pictures. Everyone commented on how lovely your were and how you made it fun and easy! Thank you again Colin and hope to see you soon!
Natasha and Aaron
Kerri-Anne and Greg Shaw
Our daughter Jessica's 18th birthday party was made perfect by the addition of a photobooth and jukebox. Our attendant was outstanding and all our guests loved the amazing props. Highly recommend Photo Booths Newcastle for your next big occaision. We will definately be using them again in the near future.
Kerri-Anne and Greg Shaw.
Adrienne Gore
Thank you so much to Colin at Photo Booths Newcastle! The booth was a total hit with all the guests and everyone commented on how fun the experience was. Colin was great at encouraging guests to use the props, be a little crazy and to make sure they wrote a note in our album. Such a great time and we would recommend Colin's photo booth to everyone as he definitely knows how to create a good and happy time!
Adrienne 😊
Brad & Lee
Hi Colin,
Thanks for your great, friendly service!!! the photo booth was heaps of fun....it added so much to the great day we had celebrating with our closest family & friends. the album you gave to us is fabulous and love the added touch of guests writing next to their crazy photo 😆. everyone commented positively about the booth and your enthusiasm to get them into it. hahaha. we will definitely call you again for our next party. thanks very much.
Brad & Lee
Ashlea Campbell
Thank you so much Photo Booths Newcastle! The booth you provided at our event was well accessorised as well as fun & easy to use. The attendant was fun, professional & attentive, making sure that a copy of each strip was glued into the album & signed by all our guests. Your organisation ensured that we had a seamless event which we truly appreciate. Everybody loved it, there was always a line up at the booth! Thank you so much for helping to make our event memorable!
Ashlea Campbell
Rick & Brad
I would like to thank Colin and Paul for helping us make our night special. We found Paul to be very encouraging to our guest to jump into the photo booth and have fun in
there Paul was also out going and just got right into it. I would also like to thank Colin for letting us use the photo booth when he dropped it off as it allowed me to get some photos of my grandparents and parents to mark the occasion as they were leaving for holidays on the Saturday which was the day of the party. All round it was a great experience and a fun time had by all we have a lot of priceless memories for years to come. We used the package with the DJ and we found the DJ great he made the 4 little girls that were here feel very special when he played the song from Frozen their favourite movie.
Thanks to you all
Rick & Brad